The National Gallery of Indonesia (Galeri Nasional Indonesia) in Jakarta is currently hosting an immersive exhibit of humanist painter, Affandi through to November 25, 2020.
According to The Jakarta Post, access to the exhibit is limited to 20 pre-registered people for each of six daily hour-long sessions. Additionally, as part of the National Culture Week activites, the exhibition will also display Affandi's paintings via video projection and sound design.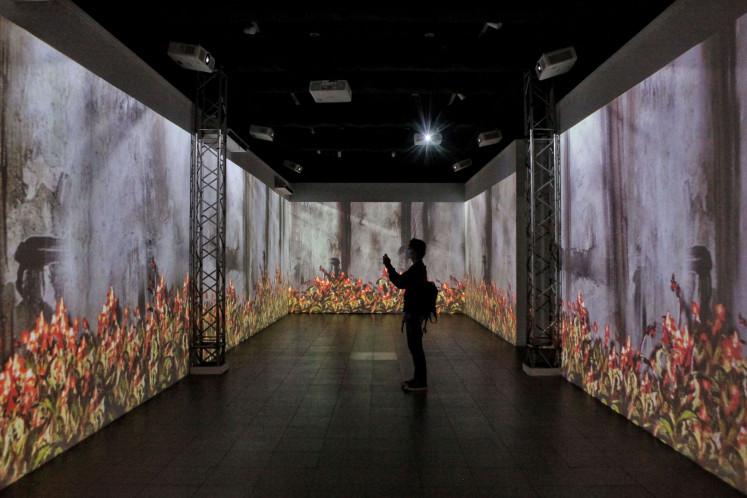 Affandi ( 1907-1990) is recognized as one of Indonesia's leading modern artists.
The exhibition "Alam, Ruang, Manusia" (Nature, Space, Human) is held as part of the 2020 National Culture Week, and at the National Gallery of Indonesia in Jakarta. It offers "video performance mapping projection of 98 of Affandi's paintings, as well as 15 of Affandi's paintings in the collection of the Indonesian National Gallery." The video performance mapping appears to be a dynamic observer-focussed experience enhanced by video, lighting and sound effects. Sounds fun.
HumanistFreedoms.com readers, whether already familiar with Affandi or not, may enjoy exploring Affandi's art and perspectives. Fortunately for those of us not currently able to access the gallery can use our internet browsers to good effect (see Sources, Citations and References for some handy links). Here are a few Affandi attributions that we found interesting:
"For me, my movement is humanism. What it means is that I paint based on humanity. Because of that, I cannot proclaim that art is for art. For me, the title of artist is too grand. Call me a painter or better yet, just human."
"My subjects are expressive rather than beautiful. I paint suffering – an old woman, a beggar, a black mountain … My great wish is that people learn a little from my work. I do know the danger of doing paintings with this in mind."
Affandi once defined humanism as meaning "all that is right and good to every living creature. When I am making a painting, and suddenly I hear a child that is crying because its doll has fallen into the water, I have to stop painting and help the child first."
According to Christies, "as a humanist at heart, Affandi believed in the universal human experience above all else and dedicated his life's practice to capturing the essence of the human condition in his paintings. This determination to depict life truthfully set him apart from the romanticised depictions of Indonesia…Affandi avoided omitting the candid and ugly, choosing instead to frame these untainted moments as crucial to our understanding of human nature."
Affandi's art is often described as being "expressionist". We have found at least one explanation of Affandi's expressionism as being an outlet for a significant concern for freedom of expression. To what extent such an explanation of Affandi's art is accurate is difficult to confirm, but there seems to be a reasonable alignment of the perspectives we have found and such an interpretation of his artistic philosophy.
Exploration of an painter's art calls for presentation of at least one or two samples. Here are a few that caught our attention:
Sources, Citations and References
---
The views, opinions and analyses expressed in the articles on Humanist Freedoms are those of the contributor(s) and do not necessarily reflect the views or opinions of the publishers.